Bible is Useful to Us if We Know How to Use it
Lesson Theme –
 The Bible is useful to us ONLY IF we know how to use it.
 LESSON OVERVIEW
This lesson is designed for grades 4-6. However, the ideas may be used for those who are younger. Keep in mind their ages and adapt as you see fit.
Suggested time limits are laid out for each section.
Do NOT linger too long on any one activity or you may not complete all of them in a 45-minute class session.
It is NOT necessary to do ALL THREE of the major points in one class period. Decide for yourselves how to teach the lesson based on the children in your class: their ages, their previous knowledge, etc.
After this lesson is taught, ALL of the concepts presented in this lesson should be reviewed regularly in order for the children to really retain the information over the long term.
PRE-CLASS ACTIVITY
I ALWAYS have something for early comers to do. After all, we only have a 45-minute class session!  These activities extend the opportunity to review what has already been taught.
Give each child a worksheet and a pencil as they come into class. 

Here is the worksheet I made:  Cryptogram Puzzle Why Do We Come to Bible Class

A

worksheet

can be an engaging way to get the children seated and settled before class begins.
There is a website where you can easily make your own worksheets for any age group. They have several different worksheet options you can choose from.  Here is the link:  https://www.kidzone.ws/puzzles/cryptogram/index.asp
LESSON READINESS – 10 minutes
"Is This Useful to You?" activity. Access the full explanation here:  https://kidsbibleclassideas.com/wetting-the-sponge-ideas/
This is a PROVEN activity to engage the attention and curiosity of kids. It is designed to let the children experience the concept that "one must know what an object is and how it is used before they can use effectively".
The activity will drive home the idea that one needs to know what the BIBLE is and how to use it BEFORE it is.  However, we don't talk about that just yet. This is just an introduction to a concept that is similar.
Traditionally these kinds of ideas are done AFTER a Bible lesson. I do such activities BEFORE the lesson so the child can experience the concept before the actual Bible lesson is taught.
Then, as the Bible lesson is taught, the children will already understand the concept more readily. I believe the Bible lesson is far more powerful to them by when it can be done this way.
Here is a link to another article on this same concept: http://comefillyourcup.com/2019/01/30/perk-up-kids-bible-class-with-an-egg-separator/
Tell them that this activity has something to do with our Bible lesson today. Then proceed to the new Bible lesson.
BIBLE LESSON – 20-25 minutes
Lesson Theme – The Bible is useful to us ONLY IF we know how to use it.  
There are THREE CONCEPTS that will be presented in this lesson for upper elementary age children. NOTE: You should teach only one or two of these concepts at a time for early elementary age children. Do NOT try to teach all three in one class session for younger children!
So, what do we need to know for the Bible to be USEFUL to us?
We must learn the names of each Bible book in order.
We must learn how the Bible is organized.
We must learn to find scripture references in the Bible.
The FIRST CONCEPT kids need to know is the names of each Bible book in order. If children have been coming to Bible classes for a long time, they may know all or some of these already. It is still vital to teach and review this again and again and continually review.
Display a "Bible Library" somewhere in your classroom. My patterns are available here: https://kidsbibleclassideas.com/bible-books-library/
Use a pointer as each book is spoken or sung. That helps the class stay together.

Children of all ages LOVE to be the "Pointer".
I usually do this activity 2 or 3 times so several kids can point. Repetition is good for long term memory too.

Do not feel you must do the entire Old or New Testament in one setting. Pick smaller sections if your class is younger or the children don't have a good background in these facts.
The NEXT CONCEPT kids need to learn is how the Bible is organized. Teach that the Bible is actually a BIG library that has 66 individual books. The Bible is broken into two sections: Old Testament and New Testament. These are the basic facts children must learn.
The Old Testament has 39 books.
The New Testament has 27 books.
The entire Bible has 66 books.

Let the kids do the math on paper or on the chalkboard: add 39 + 27. What is the total?  It adds it up to 66.

Look at the numbers 39, 27 and 66 in the photo below. Each of the numbers has the individual Bible books written on them. The books are separated by color into divisions such as Law, History, Poetry and so on. You may purchase these visual aids at the links below: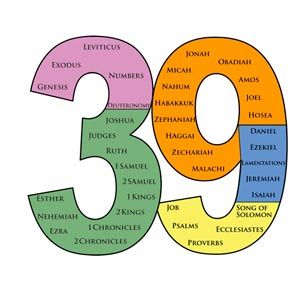 The FINAL CONCEPT kids need to know is how to find scripture references. They should be taught how to decipher the written scripture reference. For example, what does Matthew 28:18-20 refer to? Help them understand things like:
Is it OLD or NEW testament?
What do the numbers mean?
Which one is the chapter?
Why is there a dash?
What are the 2 dot "thingies" and what do they mean?
OPTIONAL ACTIVITY If you need an activity to reinforce this concept, try this one. Each child will use their own little white board. Find more here: https://kidsbibleclassideas.com/scripture-references/
Lesson Follow Up – 15 minutes
There are many good Bible verses to use with this lesson. I chose Psalm 119:105.
Assign Psalm 119:105 to memorize. It shows how God's Word can be useful to us. It lights our path and shows us how to live.
This is a song that may be familiar to children already. "Thy Word is a Lamp Unto My Feet and a Light Unto My Path". Be sure and sing it if you know it using the verse as a visual aid.
This particular verse lends itself easily to visualization. It is easy for children to memorize.
You may save the image below and print it out to show to the class.
I also like to print out a small size of this visual for the kids to glue onto a 3 x 5 index card. The children keep memory verses on index cards and store them in a treasure box where they sit. We use them many different ways. More information on my Memory Work System can be found in the article by that name on this website.
There are many different ways to work on memorization DURING Bible class. They are found in the Memory Work Ideas section of this website.